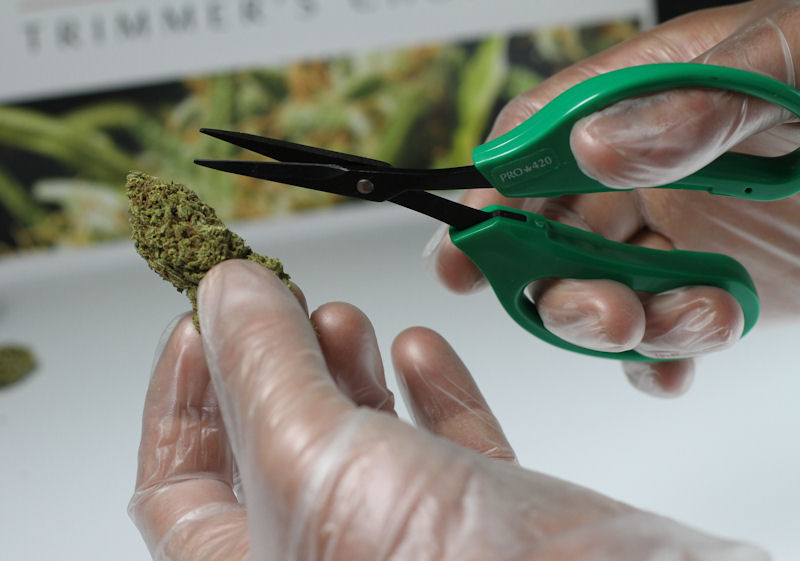 A day in the life of a Marijuana trimmer….
Walking into a dispensary is a moment of pure joy for many patients.  The sight of labeled mason jars filled with a variety of medical marijuana is relief for many, and a work of art for others. America in 2014 has radically shifted its' policy on this miracle plant and slowly but surely States are embracing Marijuana as a cure all for hundreds of ailments and diseases.
The road from budding plants to jars filled with flowers has to pass through the trimmer. Once the buds have been clipped from the plant, they are hung and dried. After the drying is complete, trimmers take each bud and carefully remove all the shade and sweet leaves from the buds, as well as sticks and stems. The finished product is much more aesthetically pleasing and showcases the amount of crystal present on each bud.
Trimmers that work in dispensaries have to be fast with their hands, be motivated to finish piles of work, and be calm enough to sit for hours on end doing repetitive clipping work.  Trim scenes can be as simple as a closet grower trimming an ounce of weed at his/her kitchen table, or a line of trimmers clipping through pounds a day in a factory setting.
How do you trim?  What is your favorite music to listen to when you trim? What kind of scissors do you use? For professional trimmers, setting up their station is very important. Placement of your tray, the scissor cleaning jar, the lights, and the type of chair are all very important to the work atmosphere and how fast you can trim.
Every day is different, as various strains produce buds of varying size, density and quality. A day spent trimming large buds may produce over 2 pounds of finished product, while a day trimming 'B' buds may produce less than a pound.
One key factor is the scissors, for sure. If you are working each day as a professional trimmer you will want to make sure you invest in a quality pair of marijuana scissors that do not stick, that are comfortable in your hand, and that have a fast clipping action.
Trimmers are the unsung heroes of the medical marijuana industry, helping transform a scraggly bud into a work of art. By removing the sweet leaves from buds, the potency per gram increases significantly helping the consumer get the most bang for their buck.
So, what does a day spent trimming look like for you?